Welcome to Thursday! Here are today's "Random Thoughts"…
ART VAN GOING OUT OF BUSINESS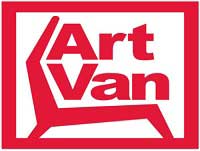 This was a surprise this morning… It looks like Art Van is closing their stores.
According to various sources it appears the Liquidation Sales will begin this Friday, March 6 at all Art Van Furniture, Art Van PureSleep and Scott Shuptrine Interiors in Michigan, Illinois, Ohio, Indiana and Missouri.
Diane Charles, Art Van Furniture spokesperson, remarked: "Despite our best efforts to remain open, the Company's brands and operating performance have been hit hard by a challenging retail environment."
YOU HAD AN UNCLE IN THE FURNITURE BUSINESS…
The timing of the closing of the Art Van stores is interesting for me…
Just yesterday I was thinking about another company that sold furniture in the midwest when I was growing up. It was called Joshua Doore. Remember their slogan? "You've got an uncle in the furniture business".
I found an old tv commercial from back in the 70s…
I watched the commercial a couple of times. The coordination of all the moving people and machinery is this TV spot is pretty incredible.
Bonus points if you remember where they were located in Grand Rapids.. Right on 44th Street next to US 131!
AN UPDATE FROM ALEX TREBEK
Jeopardy! host Alex Trebek released a video yesterday on the Jeopardy! Facebook page. He gave an update on his battle with cancer…
Congratulations to Alex for reaching the one-year mark after his diagnosis. That is something only 18% of people with pancreatic cancer get to see.
A DOG WITH AN ATTITUDE
My little dog Moose can get pretty demanding when he wants to eat, but at least he doesn't go around slamming his bowl on the ground…
AMAZON DELIVERY UPDATE
My package FINALLY arrived yesterday afternoon. Apparently they could find my front door this time!
Have a GREAT Thursday. I will be on the air — local and live — from 3-7 pm on 98.7 WFGR. I'll have more things to give away…including passes for tubing at Cannonsburg Ski Area AND tickets to go off to the West Michigan Home and Garden Show this weekend.
If you have any comments on the above stories, please leave your remarks below…