The weekend is over. It's back to another Monday. Here are today's "Random Thoughts"!
THE NUMBERS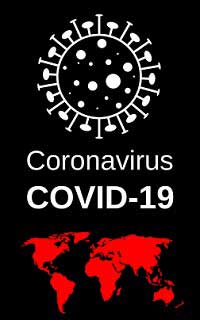 According to the website put together by the Michigan Department of Health and Human Services, as of Sunday afternoon at 3 pm there are 47,138 confirmed cases of COVID-19 in the state of Michigan. That number jumped up by 382 in 24 hours.
Here in West Michigan, there are 2,281 confirmed cases in Kent County (up by 68), 388 in Ottawa (up by 15), 367 in Muskegon (up by 13), 150 in Allegan (up by 14), 108 in Ionia County (up by 1), 48 in Barry County (no change), 46 in Montcalm (no change), and 34 in Newaygo County (no  change).
We have had a total of 4,551 deaths in our state due to COVID-19 (an increase of 25). We have had 41 deaths in Kent County (no change), 20 in Muskegon County (no change), 19 deaths in Ottawa County (no change), two deaths in Allegan County (no change), two deaths in Ionia County (no change), one death in Barry County (no change), and one death in Montcalm County (no change).
They are now also giving us the Cumulative Total of Recovered COVID-19 Cases. They will update this number every Saturday. As of May 8th, 22,686 have recovered from the virus.
There are now more than 4.1 million confirmed cases of coronavirus worldwide with more than 282,000 deaths. In the U.S., there are more than 1.3 million confirmed cases, with approximately 80,000 deaths.
The latest we have on percentages from WDIV TV in Detroit: These results lag by a few days, but on Friday, May 8th, the results of 12,215 tests came back with 826 confirmed as positive. That's 6.8% of the tests that came back positive. The previous day, Thursday, May 7th, 7.9% of the tests came back positive. That means we have seen a decrease of 1.1% in cases testing positive in just a day. Those numbers are down overall from the peak on April 4th of 41.8%.
Stay Home, Wash Your Hands, and Social Distance Yourself! Please stay healthy.
ANOTHER CORONAVIRUS CANCELLATION
It was announced this morning that the American Hockey League Board of Governors have voted to cancel the remainder of the 2019-20 AHL regular season and the 2020 Calder Cup Playoffs due to the ongoing COVID-19 public health crisis.
That means the 2019-2020 season for the Grand Rapids Griffins is officially over.
Griffins president Tim Gortsema remarked: "While we all miss sports, and hockey in particular, we recognize that the continued health and safety of our players, staff and fans will always take precedence.
"Our front office team is already hard at work contacting impacted ticket buyers and corporate sponsors with solutions and ideas as we eagerly prepare for what we anticipate will be a momentous 25th anniversary season of Griffins hockey."
.@TheAHL on Monday announced that the league's Board of Governors has voted to cancel the remainder of the 2019-20 AHL regular season and the 2020 Calder Cup Playoffs due to the ongoing COVID-19 public health crisis.

Thank you, #Griffins Nation!

📰 https://t.co/tfIbYLmI4R pic.twitter.com/CtwHfZCU5B

— Grand Rapids Griffins (@griffinshockey) May 11, 2020
I VISITED MY MOM ON MOTHER'S DAY
As many of you know, my mother is going to chemotherapy due to a cancerous mass they found in her stomach just after the first of the year.
She is doing well. We are hoping she has just one more round of chemo and then they will monitor her to make sure the cancer doesn't reappear.
Due to her compromised immune system, I have not seen either one of my parents in person in over two months.
With yesterday being Mother's Day, I couldn't extend this streak any longer.
I drove up to Newaygo to see my mom, Gloria, on Mother's Day. I used hand sanitizer, and masked up before I even went inside. We all practiced social distancing, but it was good for all of us to finally get to see each other.
A CELEBRITY DEATH
We are getting word this morning that actor/comedian Jerry Stiller has passed away at the age of 92 of natural causes.
Jerry and his wife, Anne Meara, teamed up together to produce a husband/wife comedy duo. The two appeared on many TV shows over the years. Jerry also starred in "Seinfield", playing George Costanza's father. He later appeared in the TV show "King of Queens" in a similar role.
Jerry is also the father of Ben Stiller.
Read more about Jerry Stiller here.
A LOOK BACK
On this date in 1984, the Detroit Tigers set a major league record by winning 26 of their first 30 games!
Find out what else has happened on May 11th.
WRAPPING UP
Today is "Eat What You Want Day"! Hmmm, a day to go crazy with food!
Have a MAGNIFICANT Monday! I will be on the air this afternoon — local and live — from 3-7 pm on 98.7 WFGR. I'll talk to you then!
If you have any comments on the above stories, please leave your remarks below…