I hope everyone is getting the chance to get outside and enjoy this nice weather. Here are my "Random Thoughts" for Sunday…
THE NUMBERS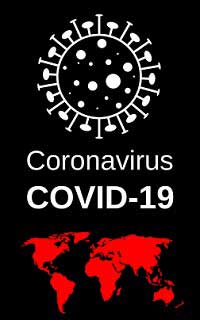 According to the website put together by the Michigan Department of Health and Human Services, as of Saturday afternoon at 3 pm there are 43,207 confirmed cases of COVID-19 in the state of Michigan. That number jumped up by 1,828 in 48 hours.
Here in West Michigan, there are 1,697 confirmed cases in Kent County (up by 218), 301 in Muskegon (up by 25), 261 in Ottawa (up by 25), 108 in Allegan (up by 10), 87 in Ionia County (up by 11), 45 in Montcalm (up by 5), 39 in Barry County (up by 4), and 26 in Newaygo County (up by 4).
We have had a total of 4,020 deaths in our state due to COVID-19 (an increase of 231). We have had 36 deaths in Kent County (up by 3), 17 in Muskegon County (no change), 12 deaths in Ottawa County (up by 3), two deaths in Allegan County (no change), two deaths in Ionia County (no change), one death in Barry County (no change), and one death in Montcalm County (no change).
They are now also giving us the Cumulative Total of Recovered COVID-19 Cases. They will update this number every Saturday. As of May 1st, 15,659 have recovered from the virus.
There are now more than 3.2 million confirmed cases of coronavirus worldwide, with more than 233,000 deaths. In the U.S., there are more than 1 million confirmed cases and 63,000 deaths.
The latest we have on percentages from WDIV TV in Detroit: These results lag by a few days, but on Thursday, April 30th, the results of 11,165 tests came back with 1,127 confirmed as positive. That's 10.1% of the tests that came back positive. The previous day, Wednesday, April 29th, 11.7% of the tests came back positive. That means we have seen a decrease of 1.6% in cases testing positive in just a day. Those numbers are down overall from the peak on April 4th of 41.8%.
Stay Home, Wash Your Hands, and Social Distance Yourself! Please stay healthy.
WHAT ARE THOSE LIGHTS IN THE SKY?
Several people on social media have been inquiring about what the string of lights they see in the sky from time to time are.
They are actually the Starlink satellites. It's a train of 60 satellites that are orbiting around the earth. Starlink is a satellite constellation being constructed by SpaceX to provide satellite Internet access. (Read more about it here.)
There is a very cool website that will tell you when you can see these satellites. It looks like they will be visible tonight at 9:21 pm and again at 10:00 pm. Check out the website to see which direction to be looking.
FRUSTRATED PILOT
I know a lot of people are very frustrated with our current situation due to the Corona virus.
One pilot, from the area, is also a little frustrated with our Governor, Gretchen Whitmer (as are many others).
He took to the sky to fly around recently. He had a very creative flight path…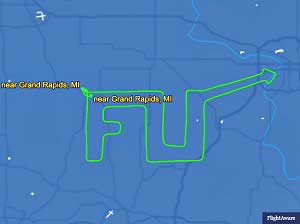 Ed Frederick, 45, spent an hour charting out the flightpath to give his message to the Governor, with an arrow pointing directly at the governor's mansion.
Frederick, who lives just outside Grand Rapids, says he is a small business owner along with his sister and feels that a shutdown was unnecessary for the entire state, considering how most of the cases were clustered around Detroit.
Read more about his story here.
NAKED GARDENING DAY RECAP
Saturday was Naked Gardening Day!
Although the weather was pretty nice, I did not have an opportunity to partake in this special occasion.
It looks like we are going to have another great day today…I might just have to participate a day late!
Enjoy the rest of your weekend. I'm on the air from 12:00 Noon until 3 pm this afternoon on 98.7 WFGR.
If you have any comments on the above stories, please leave your remarks below…