We are almost a week into the month of May already, but still there are freezing temps and maybe snow in the forecast. Say it isn't so! But then again, what can we really expect from the year 2020! Here are my "Random Thoughts" for Thursday…
THE NUMBERS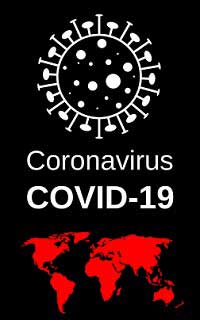 According to the website put together by the Michigan Department of Health and Human Services, as of Wednesday afternoon at 3 pm there are 45,054 confirmed cases of COVID-19 in the state of Michigan. That number jumped up by 657 in 24 hours.
Here in West Michigan, there are 2,016 confirmed cases in Kent County (up by 102), 335 in Muskegon (up by 17), 313 in Ottawa (up by 18), 124 in Allegan (up by 4), 98 in Ionia County (up by 5), 46 in Montcalm (no change), 39 in Barry County (no change), and 32 in Newaygo County (up by 1).
We have had a total of 4,250 deaths in our state due to COVID-19 (an increase of 71). We have had 40 deaths in Kent County (no change), 19 in Muskegon County (up by 1), 14 deaths in Ottawa County (up by 2), two deaths in Allegan County (no change), two deaths in Ionia County (no change), one death in Barry County (no change), and one death in Montcalm County (no change).
They are now also giving us the Cumulative Total of Recovered COVID-19 Cases. They will update this number every Saturday. As of May 1st, 15,659 have recovered from the virus.
There are more than 3.75 million confirmed cases of coronavirus worldwide and more than 263,000 deaths. In the U.S. there are more than 1.22 million confirmed cases, with more than 73,000 deaths.
The latest we have on percentages from WDIV TV in Detroit: These results lag by a few days, but on Monday, May 4th, the results of 7,223 tests came back with 576 confirmed as positive. That's 8.0% of the tests that came back positive. The previous day, Sunday, May 3rd, 7.8% of the tests came back positive. That means we have seen an increase of .2% in cases testing positive in just a day. Those numbers are down overall from the peak on April 4th of 41.8%.
Stay Home, Wash Your Hands, and Social Distance Yourself! Please stay healthy.
ADDITIONAL CORONAVIRUS NEWS
Two women in Oklahoma City, OK, were arrested after opening fire on a McDonald's restaurant and injuring three employees because they were upset that the dining room was closed due to the coronavirus crisis.
New York's Governor Cuomo says it's "shocking" most new coronavirus hospitalizations are people who had been staying home.
Governor Murphy extends New Jersey coronavirus public health emergency another 30 days. (Get ready for the same to happen in Michigan I think.)
The meatpacking industry has more than 10,000 coronavirus cases.
PEOPLE ARE STAYING HOME
When I head into 98.7 WFGR every afternoon, I'm still surprised at how empty the streets of downtown Grand Rapids are.
I took this picture at about 4:30 pm on Wednesday, May 6th. As you can see there isn't anyone out and about and only a car or two parked alongside the road.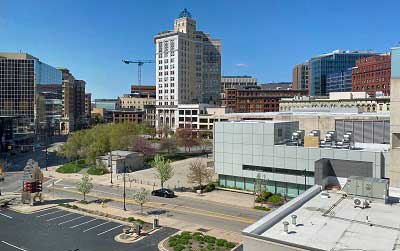 I think there were more people downtown moving about at 4:30 am in the morning back in my days of getting down there to do morning radio.
It's just creepy being so quiet. So many times in the past I'd get out of the radio station and there would be people lined up for concerts or maybe a hockey game. Now…nothing.
JOE EXOTIC'S ZOO REOPENS
For the first time since the "Tiger King" documentary debuted on Netflix, fans were able to visit Joe Exotic's Oklahoma zoo. It is now called Tiger King Park. The zoo reopened last weekend. Hundreds of people showed up to check it out.
The zoo had been closed because of the coronavirus. it reopened under new CDC social distancing and sanitation guidelines.
Joe's former business partner, Jeff Lowe, who now owns the zoo, greeted fans. Visitors also got a chance to meet alleged hitman Allen Glover, the star witness at Joe's trial. Even tiger cub petting was available.
WEIRD BABY NAME…PART 2
Yesterday I told you about how Elon Musk and his girlfriend, singer Grimes, had named their new baby boy X Æ A-12 Musk.
Now it looks like they will have to rename the child because the state of California refuses to recognize their child's bizarre, unpronounceable name.
A family law attorney confirmed, "In California, you can only use the '26 characters' of the English language in your baby name. You can't have numbers, Roman numerals, accents, umlauts or other symbols."
The couple can call their son anything they wish. But the state has banned X Æ A-12. Grimes explained in a tweet that each symbol and character has a meaning. She tweeted, "X, the unknown variable. Æ, my elven spelling of Ai (love or Artificial intelligence) A-12 spy plane = precursor to SR-17 (our favorite aircraft)."
Elon sub-tweeted Grimes to correct her that their favorite aircraft is actually the "SR-71."
Oh, and by the way, The Æ symbol is pronounced "ash."
THE LAST SNOWBANK IN GRAND RAPIDS
Despite there being some light snow in the forecast for this coming Sunday, it looks like the last remaining snowbank in Grand Rapids is just about gone…
This is always the last snow to melt in our area. It is located on the right side of Eastbound I-96 just past the Cascade Road exit. With the angle of the sun in the spring, it just doesn't get much sunlight and usually lingers into the month of May every year. It will probably be completely gone by the weekend. (Good!)
CELEBRITY DEATH
Just getting word that Brian Howe, who sang with Bad Company from 1986 to 1994, died at age 66 on Wednesday, May 6th, 2020, at the age of 66. The cause of death was reportedly cardiac arrest. He passed away at his home in Florida. TMZ notes that he may have died on the way to a hospital. He had a heart attack in 2017.
Howe's first major gig was with Ted Nugent on the 1984 LP Penetrator. He was then invited to take Paul Rodgers' place when Bad Company reactivated two years later.
Today is "Password Day". It's not a bad idea to maybe change the passwords on  your accounts to keep them safe.
Have a TERRIFIC Thursday! I will be on the air this afternoon — local and live — from 3-7 pm on 98.7 WFGR. At 4:30 pm, I'll have your next chance to win $1,000 Social Distance Dollars and also get registered to win the Grand Prize of $10,000! Listen for details. And, it's a "One Hit Wonder Wednesday", so I'll be digging out some great one hit wonders to play.
If you have any comments on the above stories, please leave your remarks below…