We've almost made it through another week! Here are my "Random Thoughts" for Friday…
THE NUMBERS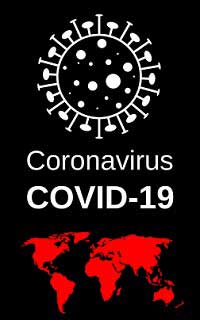 According to the website put together by the Michigan Department of Health and Human Services, as of Thursday afternoon at 3 pm there are 45,646 confirmed cases of COVID-19 in the state of Michigan. That number jumped up by 592 in 24 hours.
Here in West Michigan, there are 2,076 confirmed cases in Kent County (up by 60), 344 in Muskegon (up by 9), 331 in Ottawa (up by 18), 126 in Allegan (up by 2), 99 in Ionia County (up by 1), 46 in Montcalm (no change), 41 in Barry County (up by 2), and 34 in Newaygo County (up by 2).
We have had a total of 4,343 deaths in our state due to COVID-19 (an increase of 93). We have had 41 deaths in Kent County (up by 1), 19 in Muskegon County (no change), 17 deaths in Ottawa County (up by 3), two deaths in Allegan County (no change), two deaths in Ionia County (no change), one death in Barry County (no change), and one death in Montcalm County (no change).
They are now also giving us the Cumulative Total of Recovered COVID-19 Cases. They will update this number every Saturday. As of May 1st, 15,659 have recovered from the virus.
There are more than 3.8 million confirmed cases of coronavirus worldwide and nearly 270,000 deaths. In the U.S. there are more than 1.25 million confirmed cases, with 75,670 deaths.
The latest we have on percentages from WDIV TV in Detroit: These results lag by a few days, but on Tuesday, May 5th, the results of 10,584 tests came back with 907 confirmed as positive. That's 8.6% of the tests that came back positive. The previous day, Monday, May 4th, 8% of the tests came back positive. That means we have seen an increase of .6% in cases testing positive in just a day. Those numbers are down overall from the peak on April 4th of 41.8%.
Stay Home, Wash Your Hands, and Social Distance Yourself! Please stay healthy.
THREE MORE WEEKS…
On Thursday, Governor Gretchen Whitmer extended the Stay at Home executive order.
We are now to stay at home until Thursday, May 28th. You can read the complete Executive Order here.
And yes, I'm counting…since the start of all of this, the Govenor has issued 73 different Executive Orders. If you need some reading material, here is the list of all the links for each Executive Order, dating back to March.
As I predicted a month or so ago, I think this is going to go well into June. I still think that "Independence Day" is going to take on whole new meaning for us this July 4th.
FLAWED NUMBERS
I've mentioned this before, but I'll say it again…
Although the numbers the Governor and the state keep giving us are not inaccurate, they are not being represented correctly.
They continue to give us the number of positive new cases being reported every day. However, they fail to mention how many more people are being tested on a daily basis.
If they were administering the same exact amount of tests every day, we could use that total number of positive cases number as a reference point as to how the curve is going.
However, they fail to mention that they are now testing about 10,000 people a day. That number is double the number of tests that were being done on April 1st.
So while the positive cases number may appear to be growing and is factual, we should also realize that the total number of tests has doubled.
We should be looking at the percentage of positive tests…
On April 1st, 40.7% of the tests administered came back positive. On May 5th, 8.6% of the tests returned with a positive result. That's a difference of 32.1%. That to me is quite an accomplishment, but it looks like officials would rather just panic us and tell us that hundreds of new cases are being reported everyday.
This is the graph they post daily the state's website…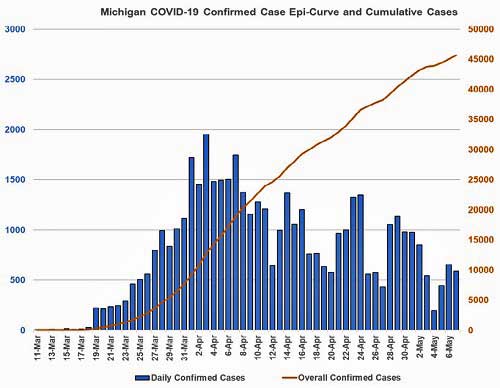 Keep in mind the red line is the number of confirmed cases. That number is a cumulative total and will NEVER go downward.
When looking at the blue bar graph of total daily cases, keep in mind they aren't referencing the total number of tests being administered. Basic statistics will tell you the bigger the sample rate (amount of tests being given) the more positive cases you will have. For example if you test 10 people and one person tests positive that's 10% of those tested that come back positive. If you test 100 people and that same 10% come back confirmed, that's 10 people. Sure, 10 is more than 1 in the two separate testing examples, but the percentage of those being tested that come back positive remains the same.
A TRIP BACK IN TIME
On Saturday I plan to take a trip back in time.
It will be for an essential item that the Governor has granted us permission to travel for. She just (as yet) has not put a limit on how far of a distance we can travel. Don't worry, I will be in my car and adhering to all "social distancing" guidelines the entire time.
I'll explain it all in Sunday's "Random Thoughts". Stay tuned!
LAST CHANCE TO WIN SOME CASH
For about the last month, we have been giving away money on 98.7 WFGR.
Every day we have handed out $1,000 three times throughout the day.
Everyone who entered to win, was also put into the drawing for the Grand Prize drawing for $10,000!
Today is the last day of the giveaway. I will have your final chance to win this afternoon at 4:30 pm. Listen for details.
Have a FANTASTIC Friday! I will be on the air this afternoon — local and live — from 3-7 pm on 98.7 WFGR. At 4:30 pm, I'll have your last chance to win $1,000 Social Distance Dollars and also get registered to win the Grand Prize of $10,000! Listen for details.
If you have any comments on the above stories, please leave your remarks below…