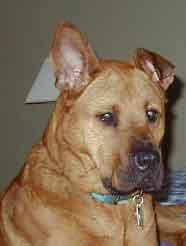 My heart is breaking after I had to let one of my furry family members cross the Rainbow Bridge. "Miss Scooby" passed away at the approximate age of 16 on Wednesday, November 7th, 2018.
I rescued Scooby from a shelter down near Indianapolis, IN  in February of 2004. The vet estimated she was about1-2 years old when I adopted her. We were never sure on what breed she was. She had a black tongue — which is typical in a Chow or Sharpei. At one point I ran some DNA testing on her, but she came back as "inconclusive". She was just a mutt — but a damn good dog.
Scooby and I spent a lot of time traveling over the years. She loved to be the leader while hiking down trails. (Here is a blog post I did about her walks earlier this spring.) She was very good at following the trail and knowing which way to go. We spent a lot of time in the car traveling together as well. She had a stubborn streak in her too. There was more than one trip to St. Louis, MO when Scooby stood the whole eight hour drive — because she wanted to! I did some quick math — her and I traveled more than 50,000 miles in the car together over the years!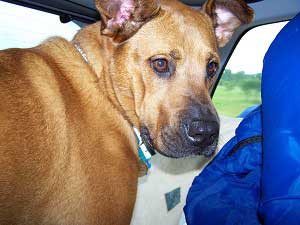 Scooby could be very aloof at times. She only wanted your affection when SHE wanted it. If you went up to pet her — and she wasn't ready for your affection — she'd get up and walk away…but I loved that dog. She was an independent as I am. Somehow we were destined to find each other and spend a good portion of our lives together.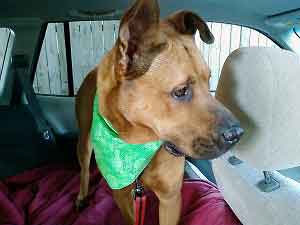 Over the last couple of years, her balance and memory had started to fail. I had to install a ramp for her to get down the back steps (although she fought me for over a year before she finally gave in and would use the ramp). She pretty much lived in her own little world. Her mind was slowly fading away. At times she would just stand in the yard, forgetting how to find her way back in the house. There were many recent nights were I would be outside in the middle of the night leading her back into the house because she had forgotten the way.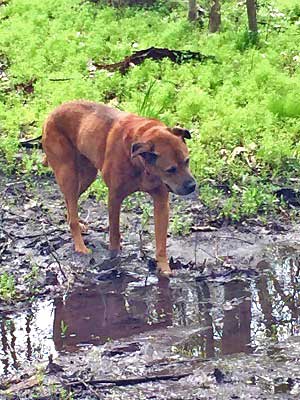 Over the last couple of months she was having a hard time standing on her back legs. She also had many accidents in the house (my living room was covered in a tarp and large dog training pee pads to accommodate her.) We would have to get up about every 90 minutes during the night to go outside — she would try her best to get outside before she couldn't hold it anymore.
I consulted with the vet on several occasions and there just wasn't much we could do. Poor Scooby was just getting old. In the last week or so she became very restless. I think she just wasn't comfortable laying around anymore, but her legs weren't strong enough to allow her to walk — or run — like she used to everyday out in the yard.
I tried to prepare myself for this day, but there just is no way possible. I had to pick up the phone and make that final appointment for her at the vet's. It was such a long drive — knowing it would be our final journey together. It was an even longer drive home without her — just her empty leash and collar on the seat next to me..
My heart is broken. Her little friend "Moose" and I will surely miss her. Have fun running and reuniting with your friends on the other side of the Rainbow Bridge Miss Scooby.
Here is a video of Scooby doing her laps in the backyard. You can hear a squirrel cheering her on in the background!