My heart is shattered in a million pieces and I have a puddle of tears on my desk as I write this blog. I just wanted to give everyone a little insight on Moose and his life as the little dog that owned such a huge piece of my heart.
The Beginning…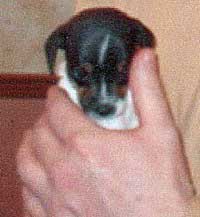 It all started in December of 2004. B-93's Reese Rickards and his wife, Kim, were breeding rat terriers. On December 23rd of that year, Moose and his brothers and sisters were born.
Let me just state the fact that I NEVER thought I wanted a little dog. I was a macho guy — I wasn't going to have a tiny dog! I always had big dogs — like my 125 pound Old English Sheepdog Barney, or my two Newfoundlands, Tally and Molly Brown. Even at 65 pounds, Scooby was the smallest dog I ever thought I would own.
On several occasions, while working at WOOD AM, Reese would come into the studio and try to convince me I needed a rat terrier puppy. He mentioned this several times over a period of a couple of years. I was always able to put him off, until early 2005. He came in and told me about this little runt of the litter they had named "Timmy". He told me how little "Timmy"  would be the best little buddy for me. For some reason I was weak, and told him I would go take a look.
So I drove from the northwest side of Grand Rapids to the Rickards' home in Sand Lake. There I was introduced to little "Timmy". As I held the little guy, who could fit in the palm of my hand, I fell in love. I'd take him!
At this point I already had Scooby for about a year. I had adopted her the previous Valentine's weekend in 2004. How was I going to introduce "Timmy" to Scooby, without making her feel like she had been replaced, after it took her so long to find her forever home?
I was able to pick up "Timmy" just before Valentine's Day in 2005. I decided I would present the little guy to Scooby as HER Valentine's Day present.
It worked! The two became inseparable.
Partners in Crime
Scooby was always a very independent dog. She was affectionate — on her terms. When she was ready, she would come to you. I wasn't quite sure how she was going to warm up to a little puppy. The two ended up being the best of buddies.
Scooby took such good care of the little guy, who by this time had shown me his true personality. He was definitely not a "Timmy". Instead he was a small dog with a HUGE attitude. He was definitely a "Moose"…and that was what I ended up calling him.
Over the years the two dogs spent all their time together. Sure Moose was never too far from me, but Scooby and I both knew that Moose was HER dog.
The two were always sleeping and playing together. Scooby taught Moose so much. When he was just wee little pup, Scooby would actually lay on the ground in front of the couch — and become a "booster" step for Moose — so that he could climb on the couch. Once he was up there, Scooby would jump up and join him as they slept together.
I have so many pictures of the two of them together. My favorite is probably the picture of Scooby laying with her front legs stretched out in front of her…with Moose sitting between her legs. They would often sit this way.
A Bad Heart
In February of 2018, Moose started to have fainting spells. I took him to his vet to get him checked out. It was at that point we found out he was having heart issues. I almost lost him one evening, but thanks to the Blue Pearl Emergency Pet Hospital, we were able to save his life.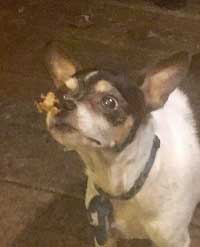 I was so afraid late that night that he was going to die before we even reached the emergency room. Once they checked him out they told me he had congestive heart failure.
He cost me thousands of dollars, but he was so worth it — and I would spend that money again in a heartbeat to have him back.
Moose had to see a cardiologist at Michigan State University to figure out what was going on with his little "ticker". He was finally put on several medications to extend his life. They warned me that we would have to come up with a fine balance with the medicines he needed because the meds to keep his heart healthy would eventually attack his liver and kidneys. They also told me that most dogs with his condition only lived about a year after their diagnosis.
To keep Moose healthy, he had to be on several pills that were given to him twice a day. So many pills that I ended up buying him not one — but two — pill minders. One for his morning pills and one for his evening pills. For the most part, he lived a pretty healthy life for over a year.
Scooby's Passing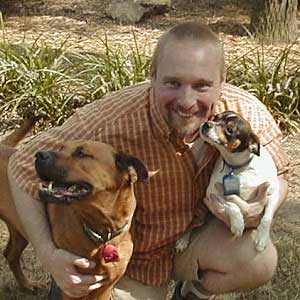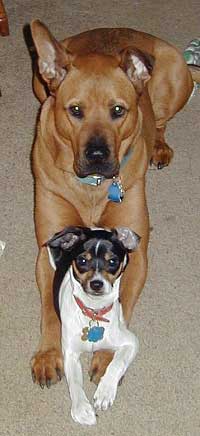 Scooby passed away in the fall of 2018. At this point the two dogs had spent over a dozen years by each other's side.
The one regret I have to this day, is that I didn't have the vet come to the house to euthanize Scooby. As far as Moose could understand — one day Scooby left and never came back. I could tell he was confused as to where his best friend went. He would often sniff around on the loveseat that Scooby would sleep on, trying to find her. He was sure she was in there somewhere hiding from him. I wish I would have let him see Scooby after she died, so that he knew she was gone.
My Little Shadow
After Scooby died, I could tell that Moose truly missed her. I knew that I had to step in and do things with him to keep him busy — so he didn't feel abandoned by her.
Moose really became my little shadow. No matter where I was, he was never far off. He always wanted to be by my side.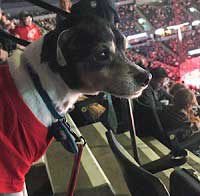 I started taking him to activities like a Grand Rapids Griffins hockey game, to charity dog washes, camping in the tent, and other events. He was always a pretty happy guy as long as he was by my side — no matter what we were doing.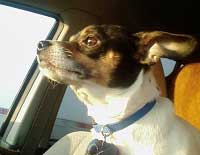 We also did a lot of traveling. With both dogs, I would often make a trip to visit a friends in Missouri. The two dogs would always get so excited when they saw my packing our bags for a trip. Despite it being an eight hour drive to St. Louis, they were always ready to go and very good travelers. Moose liked to be my little navigator! Most recently Moose went on a trip with the "Guys" down to Florida in February of 2020. He actually did very well in the car and hotel rooms. I was even surprised.
The Last Year or So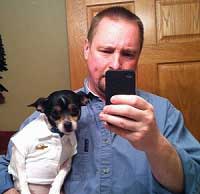 Moose's hearing was just about gone. I don't think he could hear much at all. But we could still understand each other. I think he could read my facial expressions and knew what I expected of him. On the other hand, he too had facial expressions and I could tell if he was happy, confused, or just totally annoyed with me!
He enjoyed just being around me and sleeping by my side. That little guy was such a bed hog! He always had to be touching me when he slept. And he had to be under the comforter on the bed. Don't try to throw him off by putting an extra blanket on the bed — he knew exactly the layer he wanted to be under. Don't try to trick him. He'd figure it out! For a little dog he sure could find a way to always be where I wanted to roll over. And if I bothered him, he'd let out a little grumble to let me know he was not happy with me disturbing his sleep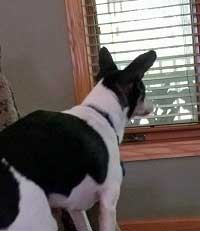 He used to wait anxiously for me to get home from work, standing on the couch, looking out the window about the same time every evening. I could often sneak up behind him, because he couldn't hear me coming in the back door. He also enjoyed seeing me walk in the door with a fast food bag. He knew that there was a french fry or two in that bag for him! Over the last year or so he had become the pickiest of eaters. I think I tried him on just about every food out there. He'd eat it for one day…and then wanted nothing to do with it. It got to a point where I would give him just about anything if he would eat it — just to get something in his stomach.
At the End
In the last couple of weeks, Moose was having issues walking. He looked like he was drunk. His doctor thought it might be neurological — because the little guy had some back issues earlier in life.
We had some blood work done and it showed that, as warned, his heart meds were now starting to cause issues with his other organs. He no longer wanted to take his pills without a struggle, and he wouldn't eat — not even the french fries he so dearly loved.
We tried putting him on an appetite stimulant, and altered his meds, in hope of making him feel better. Nothing changed. Finally, ironically, it was kidney failure that caused his death, and not his heart.
Moose passed away on Wednesday evening, July 29th at the age of 15-1/2.
He is Missed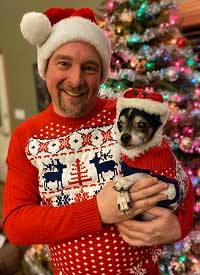 I never thought I would hurt so much after his passing. This hurts so much more than the deaths of my other dogs over the years.. We spent so much time together over the last 2 years. I'm not married and I have no children. He became my "immediate" family and we got so close. In all, I was with him for 15 years. I have spent more time with him than I have with any other person or object in my entire life. He was by my side when I was at home, and slept next to me at night.
It's been so sad to come home to an empty house every night after work and then trying to sleep at night — without him laying by my side and hearing him snore.
He truly ran this household. I was just lucky enough that he let me live with him. It's amazing how much he made my house a home. His presence was so big, even though he was only a 13 pound dog. There is now a huge empty space in my home and in my heart.
Rest in Peace my little Buddy. Moose, Moosey, Mr. Moose, Moose Goose, and Mooselman. I had so many nicknames for you. I miss you soooooo much.
Special Thanks
I do want to thank some people who helped Moose with his health over the last couple of years, including the Blue Pearl Emergency Hospital and Dr. Medora Pashmakova, his cardiologist at Michigan State University Dr. Robert Sanders, all the employees at Bridges Animal Hospital in Ada including Dr. Denise Witthoft and Dr. Kirsten Marshall, and finally Sleepy Hollow Pet Cemetery.
And thanks too for all the kind thoughts and messages that you have sent and the posts on social media. It is so appreciated.
I'm happy in knowing that Moose has been reunited with his best friend Scooby, but I am heartbroken because I know longer have him to enjoy.
Here are a couple of videos of the little guy who stole my heart…
Here is a video of Moose playing with his little girlfriend Casey…
And here is Moose checking out his Advent Calendar last Christmas…