"Random Thoughts" for Monday, August 3rd, 2020
It's been so long! It's been a few days since I've had the time — or the mental energy — to put together a "Random Thoughts", but let's get this going again. Welcome to the first week of August. Here are my "Random Thoughts" for Monday…
MANY THANKS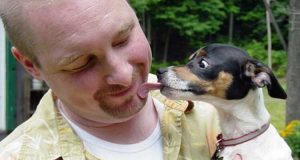 I know everyone is probably tired of hearing about Moose, so I'll keep this brief…
I just want to thank everyone for the kind words, messages, and posts on social media. This is definitely a tough time for me as I mourn the loss of my little buddy.
If you didn't get a chance to read my tribute to the little guy, here is the link.
R.I.P. Mr. Moose.
SPLASH DOWN!
It's been 45 years, but yesterday, NASA astronauts returned to earth with an ocean splash down in the Gulf of Mexico.
This time it was a Elon Musk's SpaceX capsule with NASA astronauts onboard, returning from the International Space Station.
At 11:48 am, the SpaceX Crew Dragon passengers — astronauts Bob Behnken and Doug Hurley — landed safely in the waters of the Gulf of Mexico. The astronauts safely exited the spacecraft on Sunday afternoon after a recovery at sea.
Bob and Doug arrived at the International Space Station in late May after a smooth launch. Their return schedule faced a little uncertainty due to the arrival of a major storm along the Florida coast. They had seven potential splashdown sites in the Gulf of Mexico and Atlantic Ocean to choose from. It was finally a spot off the coast of Pensacola, Florida, that was chosen, with the weather cooperating and giving the astronauts calm waters to land in.
You can watch the splash down here…
Growing up I remember getting so excited to watch a blast off and splash down with our country's journey into space. There have been generations, that up until yesterday, never had the opportunity to watch a live splash down.
CELEBRITY DEATH
Actor Wilford Brimley,  who was the face of Quaker Oats for years and also a spokesperson for diabetes education, passed away on Saturday morning, August 1st, 2020 in Utah. He was 85. Some sources report he had been in an ICU wing of a hospital on dialysis, and very sick for days.
He had roles in many classic films like "Cocoon", "The Natural", "The Thing", "Hard Target," and many other on-screen appearances, big and small. He got his start in John Wayne's classic "True Grit" and had a recurring role on TV's "The Waltons".
Many will remember Wilford more for commercials though over the years. He did commercials for Quaker Oats through the '80s and '90s…
And then there are his classic diabetes television commercials for Liberty Medical…
TODAY IS…
Today is Watermelon Day.
Nothing better on a warm summer day and a nice slice of cold watermelon.
I have to ask…Salt or no salt? I know it sounds weird, but I think salt actually enhances the flavor…and I don't typically like salt on my food.
A LOOK BACK
On this date in 1977, the Tandy TRS-80 was introduced. It was the first home computer for many.
Can you imagine not owning a home computer now days? How would we ever survive?
Read more about the Tandy TRS-80's introduction here.
Find out what else has happened on August 3rd.
WRAPPING UP
Have a MAGNIFICENT Monday! I will be on the air this afternoon — local and live — from 3-7 pm on 98.7 WFGR!
If you have any comments on the above stories, please leave your remarks below…