Wow, it is hard to believe I have been doing the Scott Winters Blog for 1 year today, June 13th, 2017.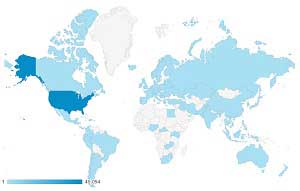 I am amazed at the reach of the blog. In the last year it has had over 31,000 users. There have been people from all 50 of the United States who have visited the blog. A large part of the world has checked in to read the blog.
When I started the Scott Winters blog, it was a way to say more about topics than you can really do on Facebook. I also want the blog to eventually be the audio archive for all of "The Rick and Scott Show" clips that I have. Even though I don't have as much audio posted as I would have liked to have had at this point, the goal remains the same…to eventually have ALL the audio that I have — available on the blog — for all to listen to at their leisure.
So what have been the most read blog posts? Looking back I'm surprised at some of the posts that made the top 10:
So, if you continue to read the Scott Winters Blog, I'll continue to post articles and audio periodically for your enjoyment.
A big "THANK YOU" to all that have been such loyal followers of the blog!
Now, onward to year number 2!