Many of you know that I have two dogs…a (b)rat terrier named Moose and a Sharpei-mix named Scooby Doo.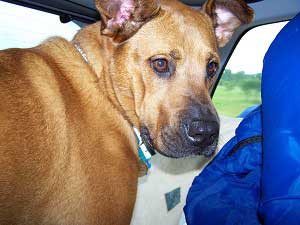 I rescued Scooby from a shelter down in Indiana  in February of 2004. Her vet, Dr. Kirsten Marshall, estimated that Scooby was about 1-2 years old when I adopted her…so "Miss Scoob" is getting up there in years.
Now I have never been a runner, but Scooby — in her younger days — loved to run full tilt around the inside of my fenced in backyard. She would run as fast as she could possibly go.
Scooby and I have traveled quite a few miles together and have hike many trails. She loves leading the way on the trail…and she's good at it too!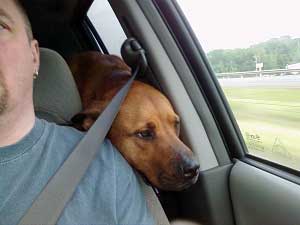 This week I decided to take her for a hike on the trails that I have on my 10 wooded acres here at home. When we go for a walk I usually let her go off-leash because she's very good at sticking close by and in her older age, her legs and balance aren't always so good. I figure I can always keep up with her.
So about a third of the way into our walk, Scooby decided to pick up the pace and break into a trot. Once she was about 30 feet ahead of me, I figured I'd better speed up a little to keep up with her. She kept going faster and faster. I had to go into a full run to catch up with her. We ran for quite a distance. Finally she stopped when there was standing water on the trail. She didn't want to get her feet wet or dirty.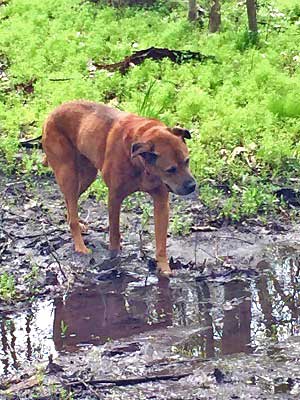 The next morning, when the alarm went off, someone had a sore back and legs from running the day before. Oh, don't worry about Scooby…at the age of 105 in dog years she was just fine. Me on the other hand, at about half of that age, I could barely get out of bed in the morning!
It's pretty sad when your senior dog is in better shape than you are! I hope I'm as full of energy at 105 as "Miss Scooby" is! It's hard for me to believe that I've had her for so long. It seems like just yesterday I was making the drive home from Indianapolis with her in the back of the SUV.
Here is a video of Scooby doing her laps in the backyard. You can hear a squirrel cheering her on in the background!