It's a fairly new activity to the West Michigan area that I had yet to try. It's Target Axe Throwing and it's exactly what it sounds like…you throw an axe at a wooden target and try to get a bullseye!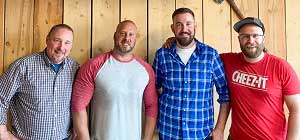 Last weekend I had some friends visiting from out of town. Jim Burns, from Target Axe Throwing, invited us out to try out out skills.
At first I wasn't sure that to think. I get bored with things pretty easily (short attention span!) so I was afraid I'd be bored after tossing an axe a few times. To my surprise, I had a great time! We were there for an hour and there was never a dull moment (pun intended!).
Target Axe Throwing is located at 3661 Plainfield Ave, NE, in Grand Rapids, MI. (It's just north of Four Mile Road. They share an entrance with their sister company Escape Michigan (an escape room). This is the area's first axe throwing range, giving you the chance to test your skills against your friends and see who's the better lumberjack!
Once you arrive, you are taken back to the axe throwing lanes. The employees will give you directions on just how to toss the axe. For me the first couple of times it just bounced off the wall and didn't "stick" into the wooden target. They will work with you — helping you perfect your toss until you figure out just how to do it. I even hit a few bullseyes (and got one on video!)
After about 15 minutes of getting familiar with the throwing axe and working on my throwing technique, we started to play a game much like darts. You score your points depending on how close to the bullseye you hit. Being competitive, I found this to be a lot of fun.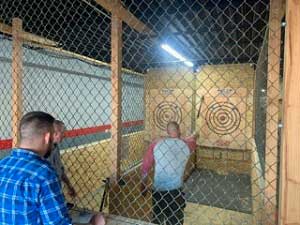 There were four of us, which is the minimum size for a group. The cost for four people for one hour is $80 ($20 per person). For bigger groups (5-10 people) the cost is $100 per hour. If you have more than 10 people in your group, you will need to reserve another lane. When I was there I saw people of all ages (you must be at least 14 year old) and both men and women were having a great time. Also, you must wear closed-toed shoes and no high heels.
This would be a great activity for work groups, bachelor and bachelorette parties, birthday parties, or even just spending time with friends — like I did.
Target Axe Throwing is open on Thursdays & Fridays from 6:00 pm to 10:00 pm. Saturday hours are 12:00 Noon to 10:00 pm. Sunday it's 12:00 noon to 6 pm. Reservations are not required but recommended. They are closed Monday-Wednesday.
For additional information, check out their website at www.targetaxethrowing.com. Their phone number is (616) 965-6824.
I will definitely be back with even more friends next time!!