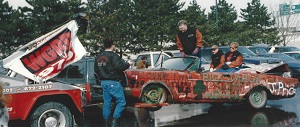 Working in radio over the years, I have been in my share of parades. Holiday parades in the summer and Thanksgiving/Christmas parades in the winter. And one thing you saw in just about every parade –besides marching bands and floats — we baton twirlers.
For many years you would see these group of youngsters walking in the parades…regardless of the weather. Sun, rain, snow, sleet or ice…they were there to entertain by tossing that silver bar into the air and (hopefully) catching it. Most of those kids when through an organization called the "Bonnie Blue Bells". Bonnie Hood founded the organization over 60 years ago. (Hood died in 2007.)
Bonnie Blue Bells was one of the last local baton-twirling classes. I think they stopped offering classes several years ago. I'm not sure if anyone offers these type of classes anymore in the Grand Rapids area (I couldn't find anything when I did a web search).
I've often wondered what happens to "young" baton twirlers as they grow older. Aside from being a majorette in a high school band, or maybe using baton twirling as your "talent" in a beauty pageant…do you retire your baton or keep practicing your art?
Well apparently the answer — at least in Pittsburgh, PA — is you find a bigger costume and you keep performing! Apparently "little" baton twirlers become "big" baton twirlers.
I'm at a loss for words to describe this video, so just watch it for yourself! Stick around for the second half of the video, when the song "Do You Love Me?" (by The Contours) starts!!
So, what talents do you have from your childhood that you still practice? I tried magic and ventriloquism once. All I managed to do was make the dummy disappear! (Well not the biggest dummy — I'm still here!) How many still play their musical instruments? Or perhaps still do dance or tap dancing?
Leave me a reply below and let's chat!
Baton Twirler Photo: YouTube