I think I found a video of the best dog ever!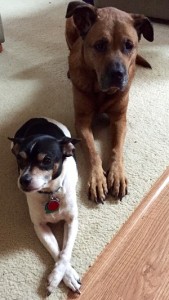 I have a little rat terrier named "Moose". (I often refer to him as my "brat" terrier). He's a great little dog, but he only knows one trick. He can "high five" and that's it. Oh sure, I've tried to teach him more…to roll over, to play dead, even to sit and shake but he is apparently more stubborn than I am…so I just gave up.
My other dog, "Scooby", can sit, shake, and wait for a treat. I got her as a rescue, so she came with those talents. It wasn't anything I taught her.
Over the years I have seen books and videos on training your dog. Many times I've thought to myself "I can do that!", only to have my dog prove otherwise. I'm not sure if I'm just not persistent enough with the training, or if the dogs are just smarter than I am. We try learning a new trick for a few minutes, and then I just get frustrated and give up.
I happened to find the following video on YouTube. Here we have a dog named "Jumpy" who has been trained to pee in a urinal…and then flush it!!
There really is no sense in me trying to teach my dogs this trick. They would never figure it out…and I don't have a urinal in my house.
"Jumpy" sure puts my dogs and their talents (or lack of) to shame. Here is another video of "Jumpy" showing off…
Good Dog!
Photo: YouTube/Omar von Muller