The 72nd Annual Grand Rapids Boat Show will be at DeVos Place in downtown Grand Rapids this weekend.
Boats? Oh there are plenty of them! There will be over 400 boats from over 100 manufacturers, filling over 5 acres of DeVos Place and the ballroom. You will find Motor Yachts, Trawlers, Cruisers & Center Consoles, Fishing Boats, Pontoons, Runabouts, Motor Yachts, Center Consoles, Deckboats, Pro Style Ski and Wakeboard Boats, Bass Boats, Kayaks & Canoes, Inflatables and Personal Watercrafts! Want a really luxurious boat? This year, three luxury yachts share the spotlight as the gems of the show: the Carver 37 Coupe, Regal 42 Sport Coupe and Tiara Q 44.
But there will be more than just boats! How about a 42' Fountain with twin 1,100 horsepower Mercury Racing motors offshore power boat. Don't forget to check out the Antique & Classic Boat Display, Twiggy, the Water Skiing Squirrel (What? Read on for more about Twiggy). Be sure to stop by the Action Water Sports booth on Friday & Saturday to meet pro wakeboarders and waterskier Parks Bonifay, Trevor Maur, Brooks Wilson and Josh Palma. Hungry? Check out the great dockside food and music at the Key West Crab Shack. If you have wanted to try SCUBA diving but haven't had the chance, you will have an opportunity to get suited up give it a try. And last but not least, it's the HO Sports Tube Truckload Sale. There will also be plenty of boat accessories, marine electronics, lifts and docks, ski and wakeboard equipment and more.
Let's get back to Twiggy the Water Skiing Squirrel for a moment…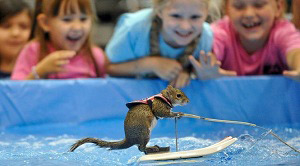 Twiggy the Waterskiing Squirrel is an internationally famous star! Twiggy has appeared on "America's Got Talent" plus she has been featured in numerous books, newspapers, magazines, and television shows all over the world. Pleasing many animal lovers and boaters, Twiggy carries her message of Boating Safety to children wherever she goes. Twiggy even has her own Wikipedia page, and official website.
Stop by and see Twiggy! She will be performing on Wednesday and Thursday at 5 pm and 7:30 pm. Friday at 2 pm, 5 pm and 7:30 pm. Saturday at 11:30 am, 2:30 pm, 5:30 pm and 7:30 pm. And the final performances will be on Sunday at 12 pm, 2 pm, and 4 pm.
Here is Twiggy featured in a GoPro commercial…
And here is a video of Twiggy performing at another boat show…
It all happens this weekend at the 72nd Annual Grand Rapids Boat Show at DeVos Place at 303 Monroe St NE, in downtown Grand Rapids, MI.
The show hours are:
Wednesday, February 15 3:00 pm – 9:00 pm
Thursday, February 16 3:00 pm – 9:00 pm
Friday, February 17 11:00 am – 9:00 pm
Saturday, February 18 10:00 am – 9:00 pm
Sunday, February 19 11:00 am – 5:00 pm
Tickets are $10 for adults, $4 children aged 6 to 14. Kids 5 and under are admitted free. Click here to download a $2 off coupon.
For additional information, here is the official website for the Grand Rapids Boat Show.
Photos: www.twiggyslagoon.com