So a few weeks ago I decided to once again this year help out Paws With a Cause in their fundraiser "Paws To Be Thankful". I set a goal of $1,000 for me to raise with not only my donation, but the donations of friends and family.
As of Monday morning, November 28th, I had only raised $140 (with the first $100 being donated by me). I posted the following on my Facebook page:
"I'm disappointed today.
Over the years I have given to various charities, I purchased candy bars, popcorn, pizzas, sub sandwiches, cookies, cookie dough and even wrapping paper. I've pledged people who were walking and running in different events. I've biked 100's of miles, auctioned off date packages, hosted telethons, put together glow ball golf tournaments, and emceed many events over the years to help raise funds for so many organizations.
I was hoping that this year I could raise $1,000 to help Paw With A Cause in their Paws To Be Thankful fundraiser. I figured with almost 5,000 friends here on Facebook I could surely raise $1,000 (actually $900 because I put in the first $100) in a couple of weeks. Unfortunately after 2 weeks I have raised only $40.
We have just over 24 hours to make this happen. If I could just get just 1,000 of my Facebook friends and family to give just $1 we could easily hit the $1,000 goal.
There is an anonymous donor who is going to match the donations, so now it is really important to make this happen. Every $1 donated becomes $2. Can I get you to help you?"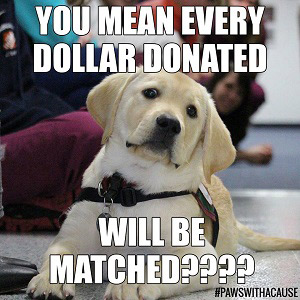 Well today I am OVERWHELMED! With everyone's help, I have now reached my $1,000 goal and surpassed it. As of last count, together we have donated $1,530!!!!! I am so thankful to each and everyone of you who donated and/or shared the link. The fundraiser continues on "Giving Tuesday", so that total could go even higher.
And it wasn't just friends and family here in West Michigan that donated. I had donations from friends as far away as Oklahoma and Vermont. THANK YOU so very much.
It was really important to raise these funds at this point because there is an anonymous donor who will match the donations dollar for dollar. So the money we raise is instantly DOUBLED!!! There is still time to donate, if you would like on this "Giving Tuesday", but I just wanted to take a moment and express my gratitude to each and everyone who helped get our donations to where they are today! THANK YOU, THANK YOU, THANK YOU!
If you would like to make a donation, click here! Then hit the green "Support Me" button.
Every little bit helps and I greatly appreciate your donations!