From time to time I come across a product or service that I find unique and very helpful. Usually I slap my forehead and say "why didn't I think of that", but none the less I'm glad someone did, and took the time to develop it into a product that we all can purchase.
Thus is the the case with some cool hangers that you can use on your vinyl siding.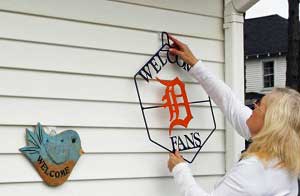 Have you ever wanted to hang something on the outside of your home? We all have — weather it's seasonal decorations or lights, or maybe even just a sign with your address numbers on it. Unfortunately, most people just grab their trusty hammer and a nail, and drive a nail right through their siding. That's great if you never want to take down whatever you are hanging. Plus nails can rust, leaving rust stains on your siding.  If you do remove the item and pull out the nail, you will have an ugly hole in your siding. This opening can now be a new entrance for bugs and moisture to get behind your siding — which can cause damage to the exterior of your home.
A Michigan company, called Larco Products, has come up with some cool vinyl siding hooks to solve the problem!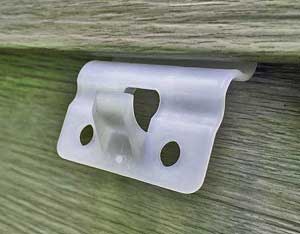 The hooks are easy to install to hold your lightweight decor. Plus, when you want to move things around, they can easily be removed without leaving any damage to your siding!
"Why didn't I think of these things?!" (there I go, slapping my forehead with my hand again!)
The VZ Hang Vinyl Siding Hangers can be found in some area stores, or they can be ordered online. And even more important, they don't cost a fortune. They are very affordable!
For more information, and to order your VZ Vinyl Siding Hangers, check out their website at www.vzhanghooks.com.
So get out there and hang those decorations on your home — with no more need for that hammer and nail. With VZ Hang Vinyl Siding Hangers there is no damage done to your siding.