"Random Thoughts" for Monday, June 15th, 2020
WOW! Did that weekend go by quickly or what? Seems like it was just Friday a blink ago!
Did you miss me? During the summer I probably won't be doing many "Random Thoughts" posts on the weekend. But I'm ready for another busy week, so let's get started… Here are my "Random Thoughts" for Monday…
WRONGWAY FELDMAN?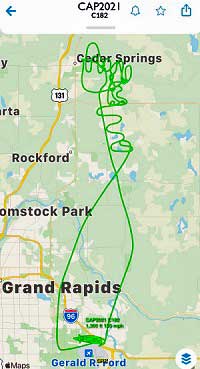 Do you remember the episode of "Gilligan's Island" where the castaways discovered that long-lost pilot Wrongway Feldman and his plane were on the island? They tried to convince him to fly to civilization and rescue them, but he was reluctant to leave the island.
On Saturday morning, I kept hearing this plane flying overhead. It kept going back and forth. I wondered for a minute if perhaps Wrongway Feldman had found his way to Cedar Springs!
I went on my "Flight Aware" app on my phone and found the flight path of the plane. It was quite the unique flight path…
It went back and forth over Cedar Springs and down Myers Lake Avenue, before returning to where it took off — the Gerald R. Ford International Airport. Before landing, it did several zig-zags back and forth north of the airport.
Some have suggested it was the Civil Air Patrol perhaps looking for someone, or something. It could also have been a training flight. I think it also could have been a mapping flight (for perhaps Access Kent or maybe Google Maps?!)
I will probably never find out, but it was quite the crazy journey.
TAKING YOUR BOTTLES & CANS BACK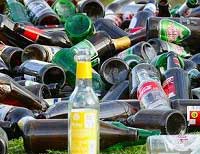 Have you had the opportunity to take back  your collection of empty bottles and cans? Good luck!
Officially today, Monday, June 15th, any retailer will be required to start accepting returns. Some stores with separate return areas opened up their bottle and can returns last week, including Meijer.
Don't grap all those empties and head to the store just yet. There are some restrictions (of course).
You will be limited to returning only $25 worth of empties at a time. If you are like me, you probably have more than that sitting around the house. The recycling processor Schupan and Sons, Inc. says more than 600 million depositable containers have piled up in Michigan since Gov. Gretchen Whitmer deemed the service non-essential in her March 24th Executive Order. That means there are about $60 million dollars worth of empties to be returned to the stores. The company said it will take at least 20-25 weeks to process the more than 600 million deposit containers Michiganders have stockpiled. (That's about 6 months!)
Another roadblock in taking your returnables will be that as part of the first phase of reopening, retailers can only return 40% above the average amount of returnables they collected each week during April and May of last year (2019). Only 40%! The Cedar Springs Meijer hit that limit by about 2 pm on Sunday.
I find it interesting that even though we couldn't take our empties back — the stores were still able to charge us for those deposits, and now we are limited to how many we can take back. The Coronavirus complications continue!
I will never understand how bottle and can returns were such an issue to begin with. You are the only person touching YOUR bottles and cans. They then go directly into a hopper at the store, and are then taken to the processing center. I'm more worried about the credit card readers in the stores that EVERYONE is touching. It seems to me that would a bigger issue and possible way of spreading the virus — more so than taking back any empty cans, but apparently "the experts" know better than I do!
IS A "LAW AND ORDER" CANCELLATION NEXT?
After the cancellations of "Cops" and "Live PD" last week and the talk of maybe yanking "Paw Patrol" or it's character "Chase", because the cartoon character is a police officer, "Rolling Stone"  magazine published a piece with the headline, "Sorry, Olivia Benson Is Canceled Too," referring to the NYPD detective (played by actress Mariska Hargitay).
The article states that "For 21 seasons, Olivia Benson has served as the quintessential Good Cop. No matter how much you love Olivia Benson, you have to be willing to grapple with the fact that she plays a major role in perpetuating the idea that cops are inherently trustworthy and heroic, and that many viewers are unable to distinguish between the gossamer fantasy of how justice should be handled, and how it actually is."
Wait a minute, we can't have TV shows featuring real cops and we can't have cartoons with dogs and cops. Now we can't have a TV show that features anything good about the police. By process of elimination — does that mean that the only "acceptable" show about the police is a show featuring bad cops? I sure hope this isn't where this is going.
Last week they took the guns away from Elmer Fudd and Yosemite Sam in the updated "Looney Tunes" cartoons, but we can still have video games like "Grand Theft Auto"? What is wrong with this world? I don't think Elmer or Sam ever killed a single person or cartoon with their guns. Quite a contrast to the video games that are being played by the youth of today.
I just don't know where to go with this anymore. I agree we have changes to make in our country on how people of other races are treated, but is there a point we are going overboard and overreacting? Now we have to go back in history and scrutinize everything that happened — and if by chance it was in anyway offensive to anyone, we have to erase any traces of that and forget it happened? Whatever happened to learning to correct our wrongs from what happened in our past. Learning about that history can only make us better individuals. Pretending it never happened is not going to solve the problems of today. Let's go back and look at what has happened over the years — and figure out where we went wrong and correct the issue. I'm sorry folks, there is no "magic wand" here. It's going to take time and effort to turn these things around. But let's focus on the big issue at hand, and not worry about whether a cartoon character is carrying a gun, or whether we need to cancel a police drama because the cop's character is too "good".
As Rick Beckett used to say…"The World's Gone Crazy!"
TODAY IS…
Today is Nature Photography Day!
I'd love to see social media filled up with pictures of nature today! That would be a welcome change for just ONE day!
A LOOK BACK
On this date in 1836, Congress suggested a way to end the Ohio-Michigan "Toledo Strip" border dispute. The idea — which ended up being adopted — gave the Toledo area to Ohio and the vast Upper Peninsula to Michigan.
I think Michigan received the better part of that deal!
Find out what else has happened on June 15th.
WRAPPING UP
Have a MAGNIFICENT Monday! I will be on the air this afternoon — local and live — from 3-7 pm on 98.7 WFGR! I'll talk to you then!
If you have any comments on the above stories, please leave your remarks below…