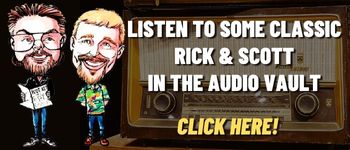 A quick look at Today in History, check out some Celebrity Birthdays, and find out what Days of the Year to celebrate.
TODAY IN HISTORY:
1862 – The first railroad post office was tested on the Hannibal and St. Joseph Railroad in Missouri.
1863 – The United States began its first military draft. An exemption cost $100.
1920 – For the first time a device known as a radio compass was used on a U.S. Navy airplane near Norfolk, VA.
1928 – Sliced bread was sold for the very first time at the Chillicothe Baking Co. in Chillicothe, MO.
1930 – Construction began on Boulder Dam (now known as Hoover Dam) on the Colorado River.
1946 – Future President Jimmy Carter married Eleanor Rosalynn Smith.
1947 – A supposed crash of an alien spaceship happened near Roswell, New Mexico.
1949 – "Dragnet" was first heard on NBC radio.
1954 – A disc-jockey at a radio station (WHBQ) in Memphis, TN, by the name of Dewey Phillips, became the first D.J. to play an Elvis Presley's record "That's All Right".
1967 – The Monkees kicked off a national tour. The opening act was Jimi Hendrix.
1981 – President Ronald Reagan nominated Arizona Judge Sandra Day O'Connor to become the first woman on the U.S. Supreme Court.
1994 – Amazon.com, Inc. was founded in Seattle, WA. It was originally called "Cadabra."
1994 – Viacom purchased Paramount Pictures for $10 billion.
1998 – A jury in Santa Monica, CA, convicted Mikail Markhasev of murdering Ennis Cosby (Bill Cosby's only son) during a roadside robbery.
2000 – Amazon.com announced that they had sold almost 400,000 copies of J.K. Rowling's "Harry Potter and The Goblet of Fire". That made it the biggest selling book in e-tailing history.
2007 – Live Earth concerts took place on all seven continents. The purpose of the concerts was to bring awareness to the problem of global warming.
2007 – J.K. Rowling's "Harry Potter and the Deathly Hallows" is published.
2009 – A memorial service was held for Michael Jackson at the Staples Center in Los Angeles, CA. 17,500 people were admitted in to the event. The service was viewed, on TV and online, by over a billion people throughout the world
2011 – Rodrick Dantzler went on a shooting spree in Grand Rapids, MI. He killed seven people, including two children. After leading police on a chase and a standoff, he eventually shot and killed himself. It was the worst mass murder in Grand Rapids' history.
2017 – Early morning storms moved through southwest Michigan. Wind gusts near 100 mph caused damage and one death.
2017 – Tesla Motors produced its first mass-market car, the Model 3. The first 30 vehicles were delivered to customers later in the month.
2019 – The United States women's national soccer team defeated the Netherlands 2–0 at the 2019 FIFA Women's World Cup Final in Lyon, France.
2021 – The world's biggest sandcastle was completed in Denmark. It was 69.4 feet high and required nearly 5,000 tons of sand.
BIRTHDAYS:
Doc Severinsen – 96 years old (1927) – Bandleader (Bandleader on "The Tonight Show". His trumpet is also featured in the opening of the "CBS News Sunday Morning" program.)
Ringo Starr – 83 years old (1940) – Drummer, singer (Beatles)
Joe Spano – 77 years old (1946) – Actor (TV's "Hill Street Blues", NCIS)
David Hodo – 76 years old (1947) – Singer (Construction Worker in The Village People)
Shelley Duvall – 74 years old (1949) – Actress ("The Shining", "Popeye", "Time Bandits")
Jessica Hahn – 64 years old (1959) – American model and actress who is best known for a rape allegation against televangelist Jim Bakker while she was employed by him as a church secretary.
Jim Gaffigan – 57 years old (1966) – Actor, comedian
Jorja Fox – 55 years old (1968) – Actress ("C.S.I.")
Michelle Kwan – 43 years old (1980) – Olympic Figure skater
TODAY IS:
National Father Daughter  Take a Walk Day
National Strawberry Sundae Day
For additional information check out websites like: www.on-this-day.com, www.born-today.com, www.famousbirthdays.com, www.daysoftheyear.com, and www.nationaldaycalendar.com.