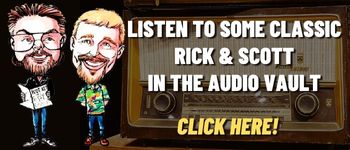 A quick look at Today in History, check out some Celebrity Birthdays, and find out what Days of the Year to celebrate.
TODAY IN HISTORY:
1833 – Andrew Jackson became the first President to ride in a train. It was a B&O passenger train.
1844 – The Young Men's Christian Association (YMCA) was founded in London.
1882 – The first electric iron was patented by H.W. Seely.
1890 – The United States Polo Association was formed in New York City, NY.
1892 – The "L" commuter rail system in Chicago, IL began operation.
1904 – The National Tuberculosis Association was formed in Atlantic City, NJ.
1921 – The Detroit Stars' Bill Greenwood pitched the first no-hitter in Negro Baseball League history, topping the Cuban Stars,4-0.
1925 – Chrysler Corporation was founded by Walter Percy Chrysler.
1932 – The first federal tax on gasoline in the U.S. went into effect. It was a penny per gallon.
1933 – In Camden, NJ, the first drive-in movie theater opened. They were originally referred to as "park-in theaters". Here is a blog about Drive-ins in the Grand Rapids, MI area.
1934 – President Franklin Roosevelt signed the Securities Exchange Act, which established the Securities and Exchange Commission (SEC).
1942 – The first nylon parachute jump was made by Adeline Gray in Hartford, CT.
1944 – The D-Day invasion of Europe took place on the beaches of Normandy, France. 400,000 Allied American, British and Canadian troops were involved.
1944 – The first glider to land airborne troops in the Normandy invasion landed. It was made by Gibson Refrigerator Co. of Greenville, MI and paid for by the war bond sales of Greenville school children.
1946 – The Basketball Association of America was formed in New York City, NY, with eleven teams.
1962 – The first Meijer "Thrifty Acres" opened on Grand Rapids, MI.
1968 – Senator Robert F. Kennedy died at 1:44 am in Los Angeles after being shot by Sirhan Sirhan. Kennedy was was shot the evening before while campaigning for the Democratic presidential nomination.
1971 – "The Ed Sullivan Show" aired for the last time. It was canceled after 23 years on the air. Gladys Knight and the Pips were the musical guests on show.
1978 – The television news program "20/20" debuted on ABC.
1983 – The PBS TV show "Reading Rainbow", hosted by LeVar Burton, debuted. The show, that encouraged children to read, ran until November 2006.
1984 – Tetris, one of the best selling video games of all time, was released.
1985 – The Senate authorized non-military aid to the Contras. The vote authorized $38 million over two years.
1991 – Actress Dana Plato (from TV's "Different Strokes") was given a six year suspended sentence for robbing a Las Vegas, NV video store.
2001 – A Los Angeles, CA jury awarded more than $3 billion in damages from the Philip Morris tobacco company to a man who claimed he had smoked Marlboros for 40 years.
2001 – Timothy J. McVeigh, the Oklahoma City bomber, was executed by lethal injection in an Indiana federal prison for the deaths of 168 people on April 19th, 1995.
2005 – The United States Supreme Court ruled that federal authorities could prosecute sick people who smoke marijuana on doctor's orders in the case of Gonzales v. Raich. The ruling concluded that state medical marijuana laws did not protect uses from the federal ban on the drug.
2008 – The Dreamworks animated movie "Kung Fu Panda" opened in theaters.
2012 – A solar airplane, called "The Solar Impulse", landed in Morocco after completing the world's first intercontinental flight powered by the sun.
BIRTHDAYS:
David Scott – 91 years old (1932) – NASA astronaut and engineer
Gary U.S. Bonds – 84 years old (1939) – Singer ("New Orleans", "Quarter to Three")
Joe Stampley – 80 years old (1943) – Country singer
Robert Englund – 76 years old (1947) – Actor (Played Freddy Krueger in the "Nightmare on Elm Street" movies)
Ada Kok – 76 years old (1947) – Olympic Swimmer
Harvey Fierstein – 69 years old (1954) – Actor, playwright
Sandra Bernhard – 68 years old (1955) – Comedian, singer, actress ("The King of Comedy", TV's "The L Word", "2 Broke Girls"). Born in Flint, MI.
Bjorn Borg – 67 years old (1956) – Tennis player
Amanda Pays – 64 years old (1959) – Actress ("Oxford Blues", "Off Limits", "Max Headroom")
Colin Quinn – 64 years old (1959) – Actor, comedian (TV's "Saturday Night Live", "Remote Control")
Steve Vai – 63 years old (1960) – Guitarist, songwriter, vocalist, actor
Sean Yseult – 57 years old (1966) – Bassist (White Zombie)
Max Casella – 56 years old (1967) – Actor (TV's "The Sopranos," "Doogie Howser, M.D.", "Vinyl")
Paul Giamatti – 56 years old (1967) – Actor ("Cinderella Man", "Love and Mercy", "Rock of Ages", "The Ides of March", "Hangover Part 2", "Barney's Version", "Sideways", "American Splendor", "Big Momma's House", TV's "Billions")
Uncle Kracker – 49 years old (1974) – Musician ("Drift Away"). Born in Mount Clemens, MI.
Staci Keenan – 48 years old (1975) – Actress (TV's "My Two Dads", "Step by Step")
Joy Enriquez – 45 years old (1978) – Singer, actress (TV's "7th Heaven", "Star Search" contestant, movies "Chasing Papi", "Lady and the Tramp II: Scamp's Adventure")
TODAY IS:
National Gardening Exercise Day
For additional information check out websites like: www.on-this-day.com, www.born-today.com, www.famousbirthdays.com, www.daysoftheyear.com, and www.nationaldaycalendar.com.