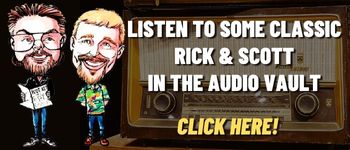 A quick look at Today in History, check out some Celebrity Birthdays, and find out what Days of the Year to celebrate.
TODAY IN HISTORY:
1790 – John Barry copyrighted "Philadelphia Spelling Book." It was the first American book to be copyrighted.
1845 – St. Vincent's, the first hospital in Michigan, opened in Detroit. It was housed in a log building by the Sister's of Charity. It was later renamed St. Mary's Hospital.
1881 – The State of Michigan turned over ownership of the Soo Locks and canal to the United States Government and made passage free to all vessels. Since the locks opened in 1855 until 1877, the state had collected a four cents toll (later reduced to 3 cents), except from United States government ships.
1931 – Robert H. Goddard patented a rocket-fueled aircraft design.
1934 – Donald Duck made his debut in the Silly Symphonies cartoon "The Wise Little Hen".
1943 – The withholding tax on payrolls was authorized by Congress.
1959 – The first ballistic missile carrying submarine, the USS George Washington, was launched.
1965 – Michel Jazy ran the mile in 3 minutes, 53.6 seconds. He broke the record set by Peter Snell in 1964.
1973 – Race horse "Secretariat" captured the Triple Crown.
1980 – Comedian Richard Pryor was severely burned by an explosion while freebasing cocaine at his California home. He was hospitalized more than two months.
1984 – In Las Vegas, NV, Larry Holmes beat Ken Norton to retain the heavyweight boxing championship.
1985 – Thomas Sutherland, an American educator, was kidnapped in Lebanon. He was not released until November 1991.
1986 – The Rogers Commission released a report on the Challenger disaster. The report explained that the spacecraft blew up as a result of a failure in a solid rocket booster joint.
1993 – The U.S. Postal Service debuted its Legends of American Music, Rock and Roll-Rhythm and Blues stamp collection. The set featured Bill Haley, Buddy Holly, Clyde McPhatter, Otis Redding, Ritchie Valens, Dinah Washington, and Elvis Presley.
1994 – Lisa "Left-Eye" Lopes (TLC) set fire to her boyfriend's house. Her boyfriend was Andre Rison of the Atlanta Falcons.
2000 – Canada and the United States signed a border security agreement. The agreement called for the establishment of a border-enforcement team.
2000 – The U.S. House of Representatives voted to repeal gift and estate taxes. The bill called for the taxes to be phased out over 10 years.
2001 – Patrick Roy (Colorado Avalanche) became the first National Hockey League player to win three Conn Smythe Trophies. The award is given to the playoff's Most Valuable Player.
2003 – Hillary Rodham Clinton's memoir, "Living History", was published to mixed reviews and record sales.
2006 – The Disney/Pixar animated movie "Cars", featuring the character Lightning McQueen, opened in theaters
2011 – The world's first artificial organ transplant was performed. It was an artificial windpipe coated with stem cells.
2022 – Two people had to be rescued after falling into a tank of chocolate at the M&M Mars factory in Pennsylvania.
BIRTHDAYS:
Marvin Kalb – 93 years old (1930) – Journalist
Dick Vitale – 84 years old (1939) – Sportscaster
Patricia Cornwell – 67 years old (1956) – Mystery author
Michael J. Fox – 62 years old (1961) – Actor (TV's "Family Ties", "Spin City", "Boston Legal", "The Michael J. Fox Show, movies "Back to the Future", "Teen Wolf", "The Secret of My Success", "Bright Lights Big City", "The American President")
Aaron Sorkin – 62 years old (1961) – Writer, producer (TV's "The West Wing")
Johnny Depp – 60 years old (1963) – Actor (TV's "21 Jump Street", movies "A Nightmare on Elm Street:, "Pirates of the Caribbean: The Curse of the Black Pearl", "Finding Neverland", "Sweeney Todd: The Demon Barber of Fleet Street", "Alice in Wonderland", "Charlie and the Chocolate Factory", "Donnie Brasco", "Ed Wood", "What's Eating Gilbert Grape", "Edward Scissorhands")
Gloria Reuben – 59 years old (1964) – Singer, actress (TV's "ER")
Dean Dinning – 56 years old (1967) – Bassist (Toad the Wet Sprocket)
Natalie Portman – 42 years old (1981) – Actress ("Star Wars" movie series, "Leon: The Professional", "Black Swan", "Closer", "Jackie", "Thor", "The Dark World", "The Other Boleyn Girl", "V for Vendetta", "Garden State", "Beautiful Girls")
TODAY IS:
National Strawberry Rhubarb Pie Day
World Antiphospholipid Antibody Syndrome Day
For additional information check out websites like: www.on-this-day.com, www.born-today.com, www.famousbirthdays.com, www.daysoftheyear.com, and www.nationaldaycalendar.com.