Welcome to your weekend! Another week is behind us. Here are today's "Random Thoughts"…
THE NUMBERS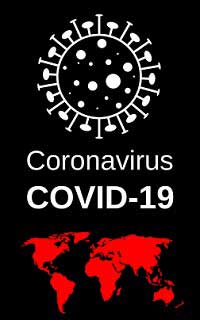 According to the website put together by the Michigan Department of Health and Human Services, as of Friday afternoon at 3 pm there are 36,641 confirmed cases of COVID-19 in the state of Michigan. That number jumped up by 1,350 in 24 hours.
Here in West Michigan, there are 906 confirmed cases in Kent County (up by 91), 204 in Muskegon (up by 18), 167 in Ottawa (up by 6), 60 in Allegan (up by 4), 37 in Ionia County (up by 5), 29 in Barry County (up by 1), 28 in Montcalm (no change), and 13 in Newaygo County (up by 1).
We have had a total of 3,085 deaths in our state due to COVID-19 (an increase of 108). We have had 29 deaths in Kent County (up by 2), 13 in Muskegon County (up by 1), eight deaths in Ottawa County (up by 1), two deaths in Ionia County (no change), one death in Allegan County (up by 1), one death in Barry County (no change), and one death in Montcalm County (no change).
They are now also giving us the Cumulative Total of Recovered COVID-19 Cases. They will update this number every Saturday. As of April 18th, 3,237 have recovered from the virus.
There are now more than 2.7 million confirmed cases of coronavirus worldwide, with more than 190,000 deaths. In the U.S., there are more than 869,000 cases, and about 50,000 deaths.
Stay Home, Wash Your Hands, and Social Distance Yourself! Please stay healthy.
THE CORONAVIRUS NUMBERS ARE MISLEADING
Many nights I just lay in bed and think about things instead of actually sleeping. Last night something dawned on me that I feel the need to share.
Our state health officials probably aren't going to like this post, but I'm going to go ahead and explain a few of the "numbers" they are using to mislead us.
Everyday they report the number of new "confirmed cases" of the coronavirus in our state. They also break it down by county. We need to STOP looking at just those numbers and take a look at the math behind them. Those numbers are VERY misleading.
Let's look at an example…
Let's say on April 15th, they tested 100 people and 1 person tested positive for COVID-19. The state would tells us that there was 1 new case.
Then the next day, on April 16th, as they continued to ramp up their ability to test people, they tested 200 people and 2 people tested positive. The news would report that the number has doubled! We now have 2 cases.
During the next week their ability to test more people continued to improve. On April 23rd they had the ability to test 400 people. In that group, 4 tested positive. The headline is going to read "Reported Cases of the Corontavirus have Quadrupled in Just a Week". While not incorrect — what they fail to mention is that the PERCENTAGE of people testing positive has remained THE SAME. just 1% of those being tested are coming back with positive results.
So they show us graphs like this one…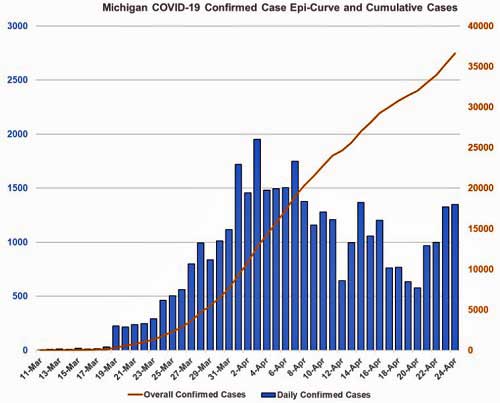 And we are concerned because the curve keeps going up with confirmed cases. A more accurate graph would show us the percentage of those tested that were coming back positive. That is the number we need to look at to see if we have reached our peak or not. Not the overall number of positive cases.
When they first started, they were not running (on a daily basis) anywhere near the number of tests they are running now. Statistics and percentages will show you that the more  you test, the more positive cases you are going to get just because your testing sample size has grown. I'd rather know what the percentage testing positive was, regardless of what the actual number is.
So when our officials tell us the numbers are still growing — are they really? The number of cases may be going up, but how is that number comparing to the percentage of total number of people being tested? Tell me instead what percentage of the total people being tested are coming back positive every day. THAT number is what we need to use to determine if we have reached our peak yet or not.
I hope that makes sense to you. The daily numbers are just very misleading. Now don't get me wrong, I'm not saying that the total number of confirmed cases isn't important, but I think there is a little bit of fear mongering going on in reporting those daily numbers.
Someone please show me a graph of the "Percentage of People Testing Positive Daily" on a graph and let's put the two side by side.
ANOTHER MISLEADING NUMBER
On counting COVID-19 fatalities: As Dr. Deborah Birx (who was appointed to the Office of the Vice President to aid in the whole of government response to COVID-19 as the Coronavirus Response Coordinator) put it, unlike other countries, "We've taken a very liberal approach to mortality . . . if someone dies with COVID-19, we are counting that as a COVID-19 death." Not all countries count fatalities the same. For example, here in the U.S., if you get eaten by a shark, but had COVID (asymptomatic)…that's counted as a COVID-19 death. Keep that in mind when the media compares fatalities from one country to another.
I have also heard some doctors say that if a person dies while showing symptoms of COVID-19 — even though they haven't been officially tested — that death is also counted as a COVID-19 related death, despite not having a positive test result.
Alright, I've done too much thinking already for a Saturday! Have a GREAT weekend. I'm on the air until 3 pm on 98.7 WFGR. Plus, it's an "Awesome 80's Weekend". We are playing the songs we all loved in the 80s all weekend long!
If you have any comments on the above stories, please leave your remarks below…