I must be hungry this morning! Most of my "Random Thoughts" are centered around food today!
STATE OF THE UNION ADDRESS
I'm not going to get into a big discussion about last night's State of the Union address. There are so many other blogs that can cover politics so much better than I ever could.
I will say this…with the handshake snub and tearing up of the speech…are these the "adults" we have elected to run our country? Scary.
CHOCOLATEY BERRY CRUNCH RETURNS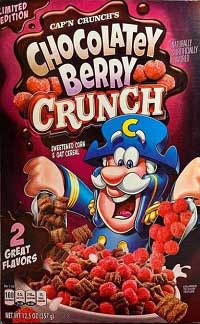 Last year, we were introduced to a cereal that is like chocolate-covered strawberries in a bowl. It is "Cap'n Crunch's Chocolatey Berry Crunch", and it is back this year just in time for Valentine's Day!
The limited-edition cereal combines two classic flavors. You will find crunchy chocolate pieces in the classic Cap'n Crunch shape with the ridges. Those are added to those crunchy red balls full of berry taste.
According to the information I have seen, you should be able find this seasonal Cap'n Crunch cereal at most retailers. It does disappear quickly though.
To read more about it, click here.
ICE CREAM THAT TASTES LIKE CEREAL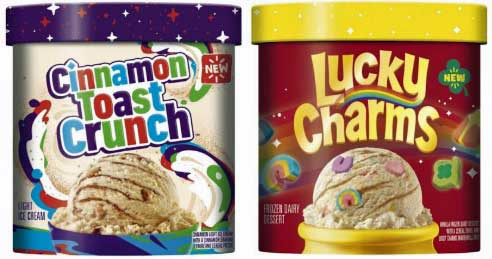 Last month I told you about how Hudsonville Ice Cream had a couple of new flavors…Peanut Butter and Jelly and Crispy Cocoa Cereal!
Now there is word that another ice cream manufacturer is doing something similar. They are making Cinnamon Toast Crunch and Lucky Charms flavored ice cream!
Maybe all these manufacturers are trying to send us a message that it is OK to eat ice cream for breakfast!
General Mills and Nestlé have teamed up to combine cereal and ice cream in these two new varieties. While both cereals are General Mills products, they will be sold under Nestlé's Edy's/Dreyer's brand. Each flavor will be available in 14 and 48 ounce containers.
I can't wait to try those little Lucky Charms marshmallows frozen!
Read more about these two new flavors here.
PEEPS!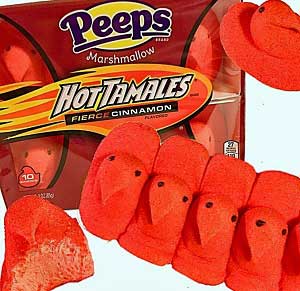 It used to be that Peeps were only available at Easter time. Then someone decided they could be sold at just about any holiday. I just recently saw some heart-shaped Peeps at the store for Valentine's Day.
Now, to spice things up just a bit for Easter, Peeps has come out with a new flavor…Hot Tamales Fierce Cinnamon Peeps!
I was a bit worried at first because I love Peeps and I love cinnamon…so you would think this would be a great combination. My fear was that the cinnamon would be very strong in flavor.
According to a review from JunkFoodMom on Instagram: "Ahhh c'mon. If you're going to give us Hot Tamale Peeps give us that fierce cinnamon taste. These have just a whisper of flavor. Good news if you're unsure to try them. Bad news if you were hoping for that pop of cinnamon spiciness. Hot Tamale fans will be disappointed."
I have not seen these in the stores locally yet. According to the article I read, they were found at Kroger.
Read more about the new Peeps here.
COORS LIGHT PICKING UP DOG ADOPTION FEES
After the Super Bowl, Kansas City Chiefs defensive lineman Derrick Nnadi paid for dog adoptions at a Kansas City, MO shelter. Well Coors Light has announced they are going to follow that example!
Coors Light will reimburse up to $100 in adoption fees for 1,000 eligible dog adoptions across the country. The dogs just have to be taken to their forever homes between February 4th and February 21st. The offer is good to those ages 21 and older and no beer purchase is required.
How to you get this reimbursement? It's actually quite easy…just text COORS4k9 to 28130 along with a picture of the adoption receipt.
No word on how many people have already applied for this reimbursement, but if you just adopted a dog, or are getting one between now and February 21st, it's worth a try to get reimbursed for the adoption fees!
Here is a link for all the details.
I have a few more food related stories, but I'll hold those off until tomorrow or Friday. I don't want to make you too hungry!
Have WONDERFUL Wednesday! I will talk to you this afternoon from 3-7 pm on 98.7 WFGR! And I'll have a new feature on the radio today…"One Hit Wonder Wednesday"!
If you have any comments on the above stories, please leave your remarks below…