The brain is working at full speed this morning! Here are some "Random Thoughts"
OZZY OSBOURNE ANNOUNCEMENT
Ozzy Osbourne has made the statment that last year was the worst year of his life.
After a fall almost a year ago, he has been on the mend, but not well enough to do any touring or recording.
He also announced, on a "Good Morning America" inteview, that he is suffering from Parkinson's disease.
You can read more about Ozzy's health in this story from "Good Morning America".
THIS LADY NEEDS HELP
A video of a woman at a couple of Meijer stores has gone viral.
The woman is out preaching to shoppers who are just try to check out and leave the store. She causes quite the scene until the cops arrive.
Here is one of the videos. I will warn you…she uses some very colorful language and she is not quiet about it. This is definitly "Not Safe For Work"…
There is also another video of her at yet another store…
There is also this video from when the woman pulled out in front of a garbage truck and got into an accident…
This woman needs some serious help. I hope she gets it before she runs into the wrong person who won't be as tolerant as the people in these videos.
CELEBRITY DEATH
Many of you may remember seeing the program "Jack Van Impe Presents" on TV on Sunday mornings. Televangelist Dr. Jack Van Impe has died at the age of 88.
No details about his passing were released. Further details about Dr. Van Impe's homecoming celebration will be published later.
Van Impe was born in Freeport, MI in 1931
He spent a career of 68 years involved in ministry. For more than 30 years, Van Impe hosted his own weekly half-hour television series "Jack Van Impe Presents" from his ministry's headquarters in Detroit, MI.
You can read more about Dr. Jack Van Impe here.
ICE CREAM FOR BREAKFAST?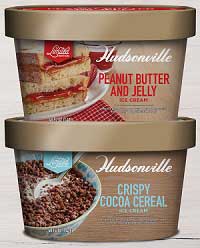 Yesterday I mentioned eating breakfast. For me it is usually a Pop Tart or a piece of toast. Nothing too exciting.
Until now! How about a bowl of ice cream for breakfast?
I'm sure there are a lot worse things you could consume to start your day.
Hudsonville Ice Cream has announced two new Limited Edition flavors: Crispy Cocoa Cereal and Peanut Butter and Jelly!
And to make things even better…they are offering up a coupon to try them out! Just supply your first name, an email address and your zip code and you can get a coupon for $2.00 off two 48 oz. cartons or dairy free pints of any flavor!
To read more about these two flavors and to get your coupon…click here!
I'll be giving both new flavors a try!
SUPER BOWL TICKET PRICES
We're still almost two weeks away from the Super Bowl and tickets are selling for record amounts. According to Seat Geek, the current average resale price of a Super Bowl ticket is $6,002 — with the lowest ticket going for $5,200. The best seats at Hard Rock Stadium in Miami are going for a staggering $16,000.
And, on top of the ticket price, you still have to find a way to Miami!
The Super Bowl is Sunday, February 2nd.
Enjoy your Tuesday. I'll talk to you from 3-7 pm on 98.7 WFGR!
If you have any comments on the above stories, please leave your remarks below…