A look back at a story I did right after a tornado went through parts of Grand Rapids and Wyoming on August 20th, 2016…
Wow, what a Saturday! To have a tornado go right through the metropolitan Grand Rapids and Wyoming areas…and to have no injuries or deaths. That is truly amazing and I am so grateful everyone was safe.
With all the storm damage, a few cities are opening up their yard waste facilities:
In the City of Wyoming, their yard waste site, located at 2660 Burlingame S.W., will be open 24 hours a day, seven days a week for residents to drop off storm debris.
In the City of Grand Rapids, the yard waste site on Butterworth S.W. will have special Sunday hours on August 21 from 9:00 am–6:00 pm for city residents.
In Grandville, residents can bring yard waste to the city's Department of Public Works facility located at 4095 White St. Enter through the rear gate at Oakes St.
There are still many areas without power. You can see the track of the storm just by looking at the Consumer Energy Power Outage Map. Click on the link for the most updated outage information.
The Red Cross will be handing out disaster kits Sunday afternoon. The kits will be handed out at the Gladiola Elementary School on Gladiola Avenue beginning at 1 pm. These kits include cleaning supplies, tarps and other items.
The city of Wyoming is going to waive building and inspection permits for residents who have damage directly caused by the storm.
According to the WOOD TV-8 website: "The manager of Marge's Donut Den told 24 Hour News 8 that the store is not charging for anything today, instead encouraging customers to donate to help the cleanup efforts. The store has boxes on the counter where residents can make their donations."
The National Weather Service has two storm survey teams are out looking at the damage to determine the number and severity of tornadoes that occurred on Saturday, August 20. Their Facebook page and website will be updated with the latest information as it becomes available.
There are also some photos and additional information on the WFGR.com website.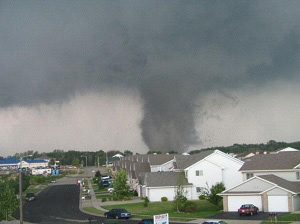 Oh, and be skeptical of any photos you may see posted on Facebook. There is a picture of a tornado (on the right), that is being posted by many people, that is a very impressive photograph…however, it's from a tornado in Wisconsin. It's not a picture from Saturday and the storm here in West Michigan.
To pat myself on the back just a little, I must say I am proud to be part of the Townsquare Media staff. We had people "on the air" on both 98.7 WFGR (Me) and Channel 95-7 (Rob Sparks & Tom Cook) giving in live updates. We took TV-13's feed and had it going out live on 100.5 The River for anyone that wanted continuous coverage. (Although I will admit that a TV feed over the radio doesn't always work so well. TV is so graphic. You'll hear them say "look here" or "look at this" and it's not anything you can see on your radio.) For many, when they lose power, a radio or streaming on a smartphone is the only source they have for severe weather information. I was glad I could be there to provide updates and help keep everyone safe and updated. I will admit though, watching the wind whip through downtown Grand Rapids, just outside the window behind, me was a little scary!
Photo: Brendan Krahn