A few days ago, it was the anniversary of the "Blizzard of '78"! And now, 45 years  later, we are dealing with more extreme winter weather. But remember what they say about Michigan weather…if you don't like it, "wait 10 minutes and it will change"!
It may take more than 10 minutes, but this will be an interesting week of weather. From the almost foot of snow the first part of the week, to the blowing and drifting, extremely cold temperatures and wind chills, to maybe the 40's by the weekend!
This has been quite the storm for several reasons…
First, in all my years of living in Grand Rapids, I never remember them completely closing Michigan Street hill because of the weather. It was closed on Monday because vehicles were having a tough time going up and down the "medical mile".
Second, Michigan's Governor Gretchen Whitmer signed a "State of Emergency" due to the extremely cold temperatures. This essentially allows the state to use emergency funds to help address threats to public health and safety. Mail delivery was postponed for Wednesday due to the cold wind chills and along with schools, many businesses were are not open.
Third, Grand Rapids Public Schools has closed for the entire week! I don't know if they have ever closed for that long of a time in the past. Growing up and attending G.R.P.S. in the 60's and 70's, we rarely had snow days. I remember several times while in grade school…parents would take turns walking us to elementary school in the road because the sidewalks were too snow covered. I remember making my way to school in waist deep snow. (Granted, when you are in 1st or 2nd grade, waist deep is only a foot or two — but that's still a lot of snow to walk through to get to school!) I think I can remember them closing school a total of 5 or 6 times overall. The longest time was during the "Blizzard of '78" and if I remember correctly school was closed on Thursday and Friday — but then it was back to school on Monday.
Fourth, We are having bitter cold temps and extremely cold wind chills. I can't remember the last time we had wind chills in the -25 range here in Michigan. This is coldest air mass we have had in West Michigan since 1994!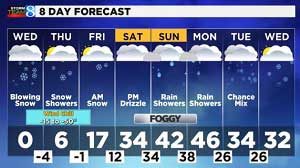 What's next? Believe it or not the "Polar Vortex" will move aside and make for some warmer temperatures. The forecast for this coming Sunday and Monday is calling rain with temperatures in the mid 40's! But don't worry winter weather enthusiasts, the warmer weather only sticks around for a few days and then we go back to winter again.
Hang on as our weather rollercoaster ride continues!